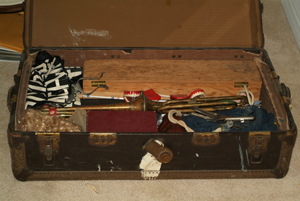 When I was but twelve years old, Dad ordained me as his permanent personal prop man for all his subsequent stage and television appearances. Now being Dad's prop man was by no stretch a low-brainer job. Aside from making sure his magical coat was properly loaded up for the performance, it also always required my diligent checking to see that I would have all of his props returned to the prop trunk after the show, in place and ready to go his next time out of the chute.
I carried this awesome responsibility with me for twelve wonderful years, and his props remain to this day exatly as I had packed them away after his final performance as Harpo Marx.
The following is a list of props that served as my inventory:
Telescope
Teeth
Long black formal Jacket w/tails
Yellow and maroon flannel shirt with sheriff badge that spins
Two ladies black satin skirts
Long horn
Extendable box
Bubble liquid
Lots of fake money
Several rubber bands
Skirt-cutting scissors and powder bag
Giant scissors
Giant diamond ring
Small diamond ring (with a jeweler's magnifying glass)
Tuners
Piano ticker (metronome Seth Thomas)
Trunk that says name of the theater on top
Knives that come out of coat (and coat)
Two wigs and wig head in excellent shape
Wardrobe trunk (empty) with Algonquin Hotel tags and Savoy Hotel stickers on it
Long black box with more teeth
Makeup
Another bag of knives
Rubber chicken
More wigs
Two mechanical monkeys
Large telescope in box
Hatchet and table (for cutting cards)
Black top hat
Wooden vase with flowers painted on and elastic attached to top
Three shoes with skates on bottom
Long metal tube with string that pulls out - weighted
Rubber carrot
Three belts
Rubber mallet
Two short horns
Tape measure
Large cow bell
Huge cigar
Long rope (for opening)
Clarinet (with mechanical bubble machine and tube)
Four harmonicas
Harp string case with tuning keys
Orchestra music for act
Signs for sewing on singers' rear end
Marshmallows
Garter belt
"Prop list written by Dad."
The HarposPlace.com website and its contents © 2010 Bill Marx. All rights reserved. You may not duplicate any information or content on this site without permission from the copyright holder.