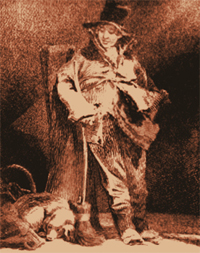 The plug-hatted ragamuffin that my Dad portrayed on stage, screen and television for more than fifty years was his own creation - even more so than the character Groucho played was Groucho's, or the character Chico played was Chico's. (I'll explain this statement in just a moment.)
Not that the character was entirely original. As ragged as the character looks, he's also made up of scraps of vaudeville and ethnic stereotypes, and certain personal characteristics of one Adolph "Arthur" (Harpo) Marx. But he also connects at a deep level to ancient human archetypes and theatrical traditions that go back centuries... through Commedia dell'arte of the 16th century... back to the Greeks. (Did you know that the ancient Greeks had a god for silence? His name - HARPOcrates! No, I did not make that up.)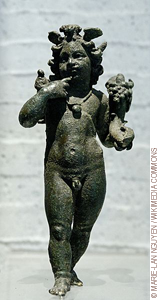 Dad originally spoke onstage (or, more accurately, he sang... back when the Marx Brothers were the Six Musical Mascots). After they all went through puberty (which destroyed their delicate six-part harmony) their natural rambunctiousness and sense of humor won out and the act turned into a comedy troupe. Groucho's character was based on what was called the "Stage Jew." (Turn-of-the-century Vaudeville was fascinated by immigrants and their often failed attempts to assimilate seamlessly into American culture - and this isn't too surprising when you realize that vaudeville audiences were often made up of these same immigrants. Consequently, racial sensitivities were not very highly developed.) He's a bit of a trickster... not to be trusted. He chases girls... and even rich, older women. And he spoke in a heavy accent that was a mix of German and Yiddish. Groucho's "ethnicity" evolved away as he developed the character more fully onstage.
Chico was (and remained) the stage Italian. He wore organ grinder's clothes and a Borsalino hat (that came to a point, presumably around his pointed head.) He appeared not to be very bright, except that he was very good at tricking people out of their money. Chico's Italian accent was truly horrible... it comes and goes... but I think this wasn't so much a sign of bad acting as it was part of the character: he's such a fraud he may not even really be an Italian... or as dumb as he pretends. On the other hand, Chico was as casual an actor as he was a pianist and he simply may not have cared about his accent too much. There is one great moment in A Day At The Races where Chico layers a terrible Irish accent on top of his already terrible Italian accent when he masquerades as a house detective. It may be his finest moment as an actor.
Dad was "Patsy Brannigan," Stage Irishman. The stage Irishman was a red-headed moron who probably drank too much. Dad later added the harp to his performances. This musical instrument closely associated with the Irish would not have seemed out of place in a Stage Irishman's bag of tricks.
But Dad's characterization never stuck too close to the Stage Irishman tradition. For one thing, he never wore the "Irish beard" that wrapped under the chin. And Dad wasn't much of a wise cracker - he spoke hesitantly onstage and simply wasn't as quick with one-liners and ad-libbing as Groucho and Chico. One thing he was REALLY good at, though, was sight gags. Dad wasn't strictly a pantomimist in the conventional sense - in other words, he didn't create a magical imaginary world through gestures. He simply responded to the real world and all the talking that was happening around him by being very quiet and listening attentively.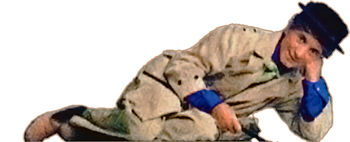 But in their original vaudeville act, "Patsy Brannigan" spoke whenever Dad felt like saying something. And this worked well enough until one day when Vaudeville star Al Shean helped them write a new act. Al was the brothers' uncle, and he worked on an updated version of their successful stage show, but he either forgot (or deliberately) didn't give Dad anything to say. I think Dad may have been a little hurt by this and he told Uncle Al that when he was onstage he'd talk whenever he felt like talking.
When they premiered the new show later that year, a critic said something along the lines of "Arthur Marx creates a wonderful world of pantomime that is ruined every time he opens his mouth." Dad wasn't an overly sensitive man, but I think that really stung him. He essentially never spoke onstage again from that moment on.
And that meant that he had to create his own gags and "bits of business" as they say in entertainment. And that's what I mean when I say the character was even more Dad's, than Groucho's was Groucho's. Groucho was a great writer and honed his characterization over years. But he had writers who really helped him. (Writers he ALWAYS gave credit to.) Groucho's ear was very keenly attuned to what was appropriate for his character to say and he certainly ad-libbed and wrote some of the funniest lines in the Marx Brothers canon.
But writers didn't really work very well with Dad. Lots of times Dad would be handed a script that said, "Harpo walks in and does something funny." More often than not, it was up to Dad to figure out what the "funny" was. And he must have done a pretty good job of it - when the Brothers first appeared on Broadway, it was Harpo they singled out in their rave reviews for special attention.
Dad worked exclusively with the Marx Brothers for many years, but he also had various solo careers. He was the first brother to appear in a movie - 1925's Too Many Kisses, starring Richard Dix. (Not surprising, since movies - like Dad - were silent then.) Dad even made occasional solo appearances on radio, beginning in the late 1920s through the 1950s, but Dad's act really didn't translate well to radio.
After the release of MGM's The Big Store in 1941 and the Marx Brothers' first retirement, Dad did a lot of solo work with USO shows and performing at Army bases and hospitals. And in the late 1940s, he toured around with a musical show called "Harpo's Concert Bazaar." Dad and his good friend, writer Ben Hecht, plus director Frank Tashlin, sketched out a solo film project for Dad that eventually turned into the movie, Love Happy (1949), but by the time a shooting script was produced, Chico and Groucho were involved. (There's a myth that Chico and Groucho were added to this project at the last minute but it isn't true. Although Love Happy was originally conceived as Dad's solo project, both Brothers were involved in the project fairly early on.)
In 1951, Dad auditioned for Howard Hughes' production of "Androcles and the Lion" (1952), for the part of Androcles. It would have required that he accept a speaking part. The producer, Gabriel Pascal, liked his audition and asked him to do another. But ultimately, the part went to Alan Young. (Here's another myth - that Dad worked for five weeks filming the part. He didn't. That never happened.) I think it's interesting that Dad was willing to explore new parts... beyond the Harpo characterization.
And that wasn't unprecedented, either. He'd accepted the speaking role of Banjo in THE MAN WHO CAME TO DINNER when an "inside cast" including George S. Kaufman performed it at the Bucks County Playhouse in 1942. But this wasn't much of a stretch for Dad - the part was based on him. Also in 1942 he'd played the role of Property Man in a production of THE YELLOWJACKET with his good friend, Alexander Woollcott, in Marblehead, Massachusetts. But in this role he was silent and he did adopt lots of his "Harpo" characteristics. Which pleased everybody but Woollcott... who got mad at Harpo for "ruining" the play. (He didn't, though. critics loved his performance in what was otherwise a fairly pretentious and stilted play.)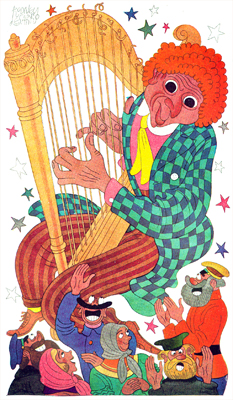 Dad had been waiting for television for years, but by the time TV really began to take off he was an older father with younger children and he didn't feel the need to perform as much as he had when he was younger. In the late 1940s, I joined him (and Uncle Chico) on a tour of English music halls, where I became Dad's prop master. Dad would often take stage jobs either solo or with Uncle Chico, especially in Las Vegas or Reno, throughout the 1950s.
But he did appear on television as a frequent special guest. His first appearance, however, was in a series of six commercials for Meyenberg's All Pure Evaporated Milk. They aired on the East Coast throughout the fall and winter of 1951. (Dad made a number of other commercials, too. In 1957 he appeared in a two and a half minute color commercial for Pepsi. Earlier that year he joined Uncle Chico in eight commercials for Prom Home Permanent, which was an alternate sponsor for Uncle Groucho's hit TV series, You Bet Your Life. And in 1958 Dad made a commercial for Gillette Razor Blades. In 1959 he made a commercial for one of his harp albums and in 1960 he made four commercials in Canada for Labatt's Beer.)
In November of 1951, Dad made his debut on the Colgate Comedy Hour with Donald O'Connor. For the next 11 years TV audiences never knew when Dad was going to show up unexpectedly. He signed a contract with NBC in 1952 to make odd appearances here and there and that's just what he did. Once, he co-hosted NBC's Comedy Hour with Uncle Chico. He also appeared on the All Star Revue... and in one of NBC's first-ever color broadcasts, on a Christmas special called "Season's Greetings" on December 17, 1953.
Harpo appeared on the Art Linkletter Show and the Tennessee Ernie Ford Show, on the Chevy Show and on the Ed Sullivan Show, on Playhouse 90 and on the Today Show and even on Celebrity Golf playing against the immortal Sam Snead.
But two TV performances really stand out in my mind. One is familiar to lots of people - it's his memorable appearance on I Love Lucy... TV's #1 show at the time in April of 1955. I was there for that performance (and I even arranged the version of Take Me Out To The Ball Game that he plays on the harp) and it was later voted one of the top 10 episodes of I Love Lucy. I remember it because my dad looked so great at 67 years old. He'd actually suffered a mild heart attack earlier, but his strenuous performance showed no signs that he'd been diminished in any way. At one point, having thrown one of the actresses over his shoulder, he accidentally knocked his hat off. Without missing a beat, he knelt down and picked it up... while still carrying the actress!
The other performance is one hardly anybody has seen, but it's my Dad's only filmed dramatic appearance. And in it he doesn't look like Harpo at all. It was shot for the December 22, 1960 episode of the DuPont Show with June Allyson, an anthology series. Dad plays a deaf mute who witnesses a gangland murder while performing as a mechanical man in a department store window. His make-up as the mechanical man is truly bizarre. And dad was really great in it. I was also on the set for this show... because I was cast in a small part.
Believe it or not, Dad made his last movie in 1961, co-starring with Mickey Rooney and Arnold Stang in a 90 minute color musical. You're probably wondering why you've never seen it. Here's why - it was actually a big commercial for Ford Motor Company, announcing their line of new 1962 cars. The movie was shown only to Ford Dealers across the country over one weekend in August of 1961. And apparently, every print of this film was lost! Dad was asked to appear in a movie as late as 1964, but by then he was pretty well retired.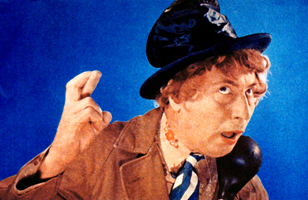 Dad's last appearances on TV came in the Fall of 1962 - on Fess Parker's Mr. Smith Goes To Washington sit-com and on Red Skelton's hour-long variety show. He was pretty old by this point and not in the best of health, but his performances are great.
Meanwhile, Dad had started a whole other career as a recording artist. In 1951, he recorded and released an album of harp music for RCA. In 1957, he recorded another album, this time for MERCURY and in hi-fi. I was lucky enough to arrange some of the songs on this album. And it sold well enough for us to work on a second album in 1958. On this one I did all the arrangements.
In 1963, Dad's friend Allan Sherman ("Hello Muddah, Hello Faddah") asked him to join him onstage for two live performances - one in Santa Monica and one in Pasadena, California. Dad agreed, but afterwards decided that these would be his last performances. He retired after that.
... but not completely! (Dad loved being onstage.) He continued to make charity appearances with symphony orchestras and for the United Jewish Appeal. And every once in a while he'd get a hankering to do another TV special. (He approached Leonard Bernstein about a YOUNG PEOPLE'S CONCERT appearance and also thought about doing a Doublemint Gum commercial and going on Ernie Ford's show with a song he'd written.)
But ultimately, none of this came to pass. His last two professional appearances were on Mahalia Jackson's album, "LET'S PRAY TOGETHER" in 1964. (He accompanied Ms. Jackson on the harp as she sang Dad's most famous song, "GUARDIAN ANGELS".) And in the summer of 1964, he showed up at the Palm Springs Police Charity Ball, just a few weeks before he died.
The HarposPlace.com website and its contents © 2010 Bill Marx. All rights reserved. You may not duplicate any information or content on this site without permission from the copyright holder.