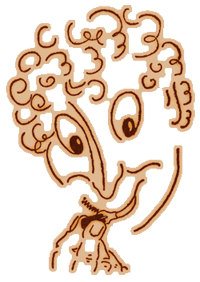 Welcome to the Harpo Marx Website. My name is Bill Marx, and my dad is Harpo Marx. I created this site on behalf of The Harpo Marx Foundation and his family so that visitors who stop by can see a different perspective on Harpo... and learn sides of the man that might not be very obvious from that crazy fright-wigged character who chases girls in Marx Brothers movies. In other words - the complete man.
Dad always said there were two Harpos - the actor and the man. The actor was the one who horsed around with his brothers and pulled all sorts of junk from that bottomless pit of a trench coat. But it was also the man who sat down and played the harp.
And it was the man that I knew best. The man I just called - Dad.
My Dad was a great father to me and my two Marx Brothers - Jimmy and Alex, and my Marx sister - Minnie. I was also fortunate to have had a musical kinship with him that spurred my own pursuits... and also resulted in fun collaborations with him both as Dad and Harpo.
Dad was born Adolph Marx on November 23, 1888. He was the third child of Minnie and Sam "Frenchie" Marx. The oldest, Manfred, died at six months... before any of his brothers were even born. Leonard (who became Chico) was born on March 22, 1887, and Julius (who became Groucho) was born on October 2, 1890. Two other brothers - Milton (Gummo) was born in 1893 and Herbert (Zeppo) was born in 1901.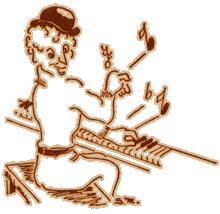 My Dad grew up poor in turn of the century New York City. He wasn't exactly a scholar and he dropped out of school (literally) when two classmates threw him out the window of his second grade class. But from that moment on he was a true "student of life." His childhood was rich with adventure - he skated on the ponds of Central Park (on one scavenged skate) he swam in the East River (with one hand pushing away floating trash) and he lit bonfires on street corners on Election Day. He even played piano in a whorehouse!
But the pull of the theater was too strong for him. (Or should I say his mother pulled him off a piano stool in a nickelodeon and dragged him into a singing act she'd created with Groucho, (Julius), Gummo and another guy. However it happened, my Dad stayed in show biz pretty much from then on.
The singing group became a comedy troupe. Brother Chico joined the act. And so did Brother Zeppo when Brother Gummo left. Together the Four Marx Brothers went from vaudeville to the Palace Theater, to legitimate Broadway... and on into movies, where they made 13 films together. And at some much earlier point, my dad changed his name from Adolph to Arthur.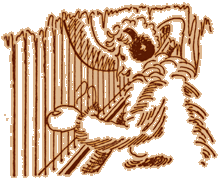 Dad wrote all about these adventures in his entertaining autobiography, (co-written by Rowland Barber) HARPO SPEAKS (Amazon link). Those adventures include visiting Russia in the 1930s to become the first American to perform in the Soviet Union after the United States government officially recognized it. (He also apparently smuggled secret papers out on his way home, becoming one of America's unofficial spies.) Dad also spent the summer of 1928 on the French Riviera with Ruth Gordon and George Bernard Shaw. Dad was also a member of the literary Algonquin Round Table in New York, hobnobbing with such luminaries as Alexander Woollcott, Robert Benchley, George S. Kaufman and Dorothy Parker. He lost virtually all his money in the stock market crash of 1929. But he was lucky - he had a well-paying job as a Broadway star and managed not only to survive the Depression, but also reach creative heights as a member of the Marx Brothers.
After my Dad moved to Hollywood in 1931, he met my mom, Actress Susan Fleming and they were married in 1936. (It took some convincing on my Mom's part - Dad was a confirmed bachelor and he was 20 years Susan's senior. But she finally hooked him.) Mom quit acting, which she never liked very much, anyway. Together, they adopted four kids - Me, Alex, Jimmy and Minnie. And even though Dad took time out to make movies and go on USO tours, we were pretty much your typical 20th century American family... living in humble, old, one-horse town, Beverly Hills, long before it became the Beverly Hills of today.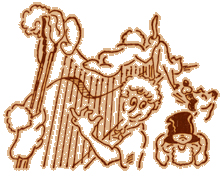 During the fabulous fifties, Dad spent his time working guest shots on TV and making personal appearances... sometimes with Uncle Chico. And he spent a lot of time at another "Round Table" - the Hillcrest Country Club Round Table in West Los Angeles, where he sometimes played golf but often traded quips with the comedians who gathered there. They included Uncle Groucho, Jack Benny, George Jessel, George Burns, a couple of Ritz Brothers and Danny Kaye, among others.
In 1956 the family moved down to Rancho Mirage, California, where Dad had helped found the Tamarisk Country Club. Despite some health issues, Dad's happy remaining years were spent strumming away at his beloved harp, making increasingly rarer professional appearances, painting with Mom and golfing buck naked in the hot desert sun (whenever the neighbors weren't looking).
Dad died on September 28, 1964 after having open-heart surgery. It was his and Mom's 28th anniversary.
The HarposPlace.com website and its contents © 2010 Bill Marx. All rights reserved. You may not duplicate any information or content on this site without permission from the copyright holder.